FBLA - Future Business Leaders of America
FBLA dues are $15 and may be paid to Mrs. Carter or Mrs. Tillman or on MySchoolBucks.

We have had a great year! Thanks to our wonderful members for your participation! Happy graduation to our seniors, and we hope to see our underclassmen in the fall!
State Leadership Conference was March 11-12 at the Hyatt Regency in Atlanta. Although no one advanced to nationals, we had a great time! Cook High FBLA was awarded the Silver Chapter of the Year plaque!
Check us out on social media -- Cook High School FBLA on Facebook and Twitter and @cookfbla on Instagram. Georgia FBLA can be found on Facebook, Twitter, and Instagram.
Senior FBLA members who have earned the Contributor and Leader level BAA during high school will be awarded a cord. BAA levels must be earned in order. Senior FBLA members who have earned the Contributor, Leader, Advocate, and Capstone level BAA during high school will be awarded a tricord. DUE DATE: TUESDAY, JANUARY 31, 2023.

See Mrs. Carter or Mrs. Tillman to receive login information for the Business Achievement Awards (BAA). You will receive a Level Award upon completion and verification of the online program. DUE DATE: TUESDAY, JANUARY 31, 2023.

* Develop competent, aggressive business leadership.
* Strengthen the confidence of students in themselves and their world.
* Create more interest in and understanding of the American business enterprise.
* Encourage members in the development of individual projects that contribute to the improvement of home, business, and community.
* Develop character, prepare for useful citizenship, and foster patriotism.
* Encourage and practice efficient money management.
* Encourage scholarship and promote school loyalty.
* Assist students in the establishment of occupational goals.
* Facilitate the transition from school to work.
Activities Planned for 2022 - 2023
* SLOTS in Cordele (July 21)
* Sign-Up for BAA
* Fall Rally in Perry (October 13)
* Fall Leadership Conference in Athens (November 16)
* Toys for Cook Kids (November/December)
* Region Competition (December)
* Region Leadership Conference in TBD (January)
* FBLA Week Activities (February)
* March of Dimes Service Projects and Fundraisers (February)
* State Leadership Conference in Atlanta (March 10-11)
* National Leadership Conference in Atlanta (June 26-30, 2023)
* Many, many more . . .
Chapter of the Year Award
Cook High FBLA earned Silver Chapter of the Year for 2021-22. Members and advisers worked hard to achieve this award. We look forward to reaching this goal next year as well.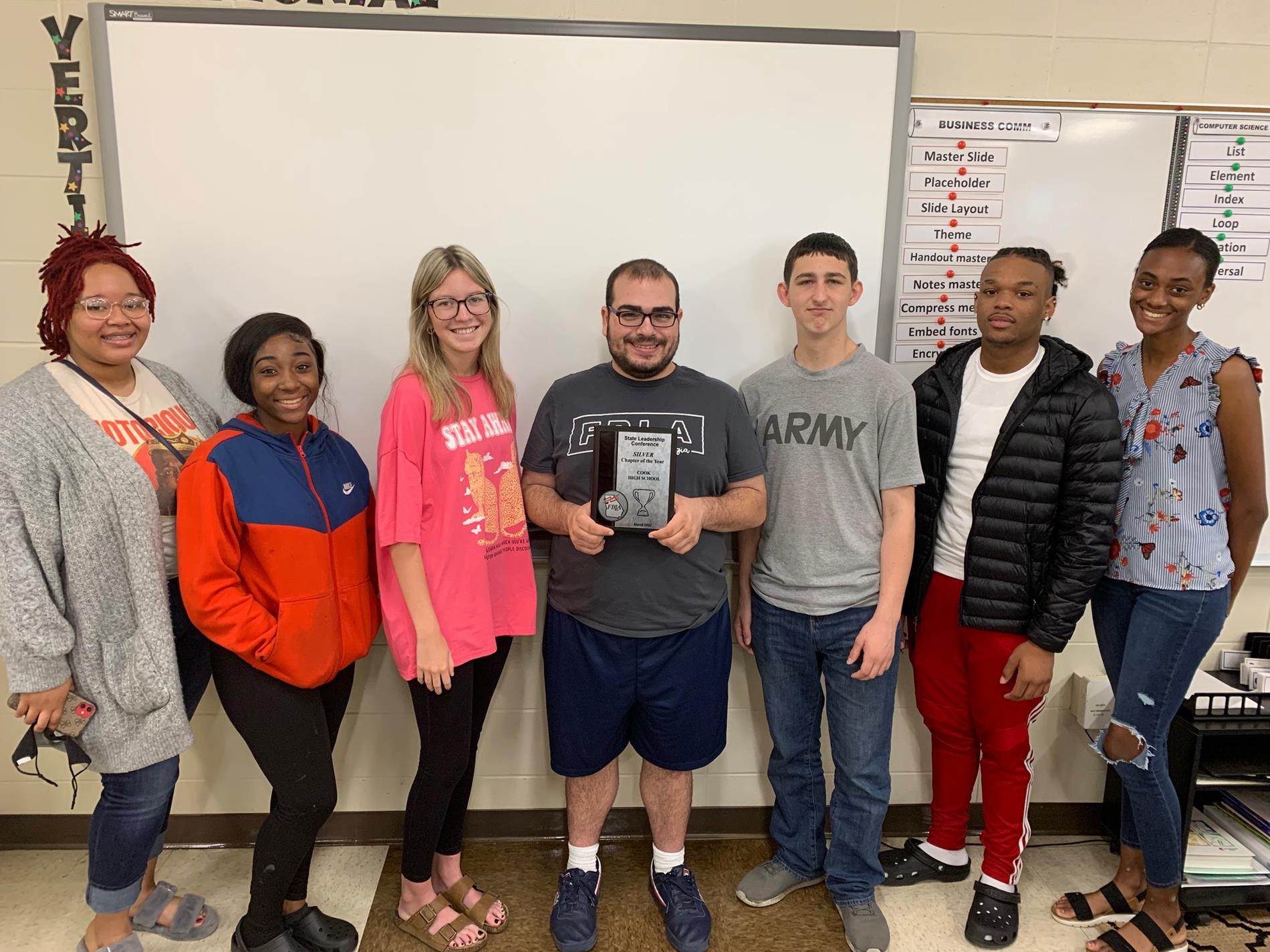 Eager Business Award
Caia Davis earned the Eager Business Award this year for her ready-and-willing involvement in FBLA. FBLA could always count on Caia to get things done. She participated in the following this year:
Served as officer
SLOTS
Pre-Planning bulletin board
Toys for Cook Kids
Feed GA Campaign
Fall Frolic
Attended all meetings
FLC
RLC
SLC
Hour of Code
BAA, Contributor Level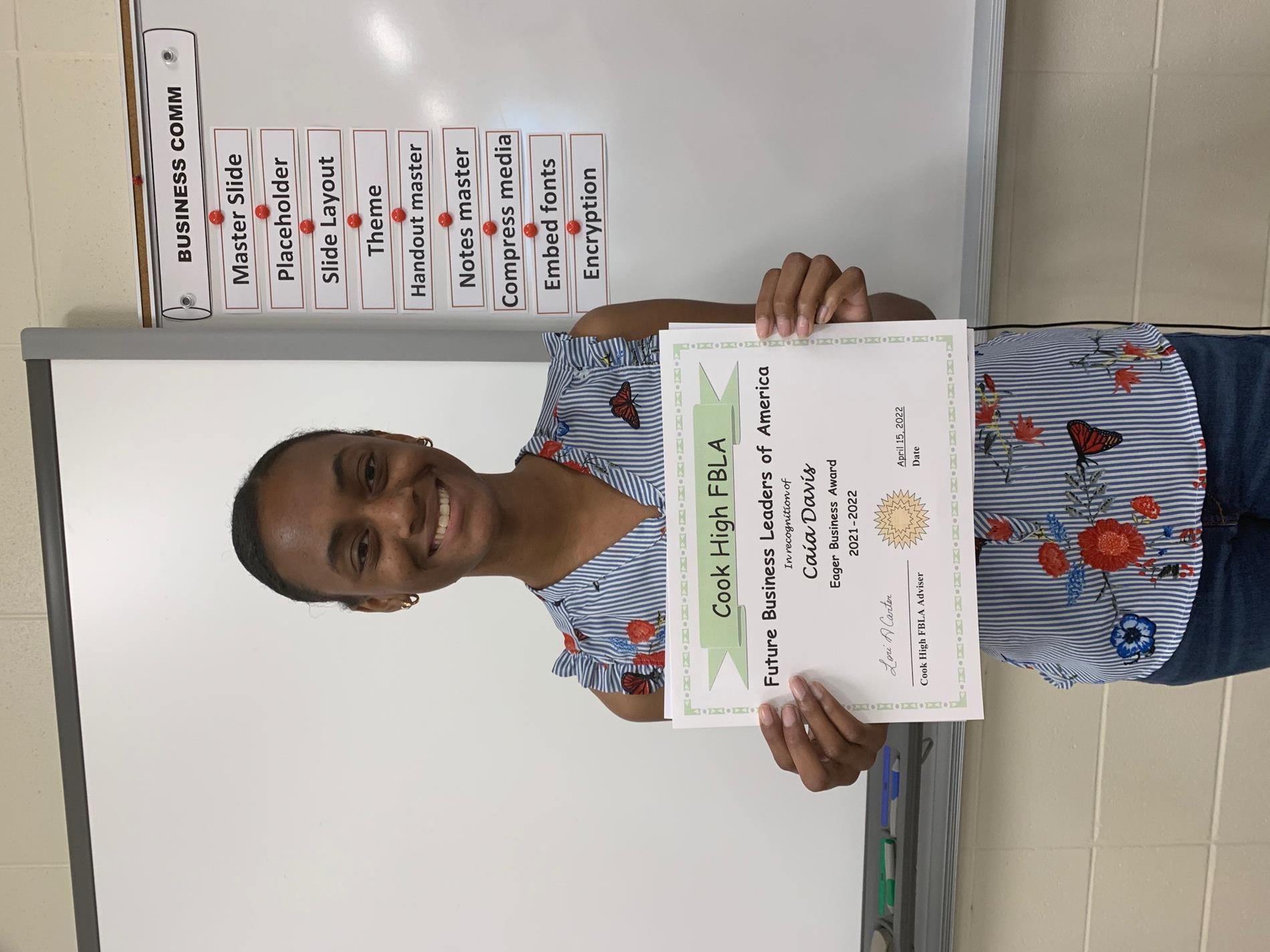 BAA Certificates
FBLA members are encouraged to strive to earn a Business Achievement Award by completing an achievement level through the national FBLA site.
Caia Davis and Barry Joiner both earned the Contributor level this school year.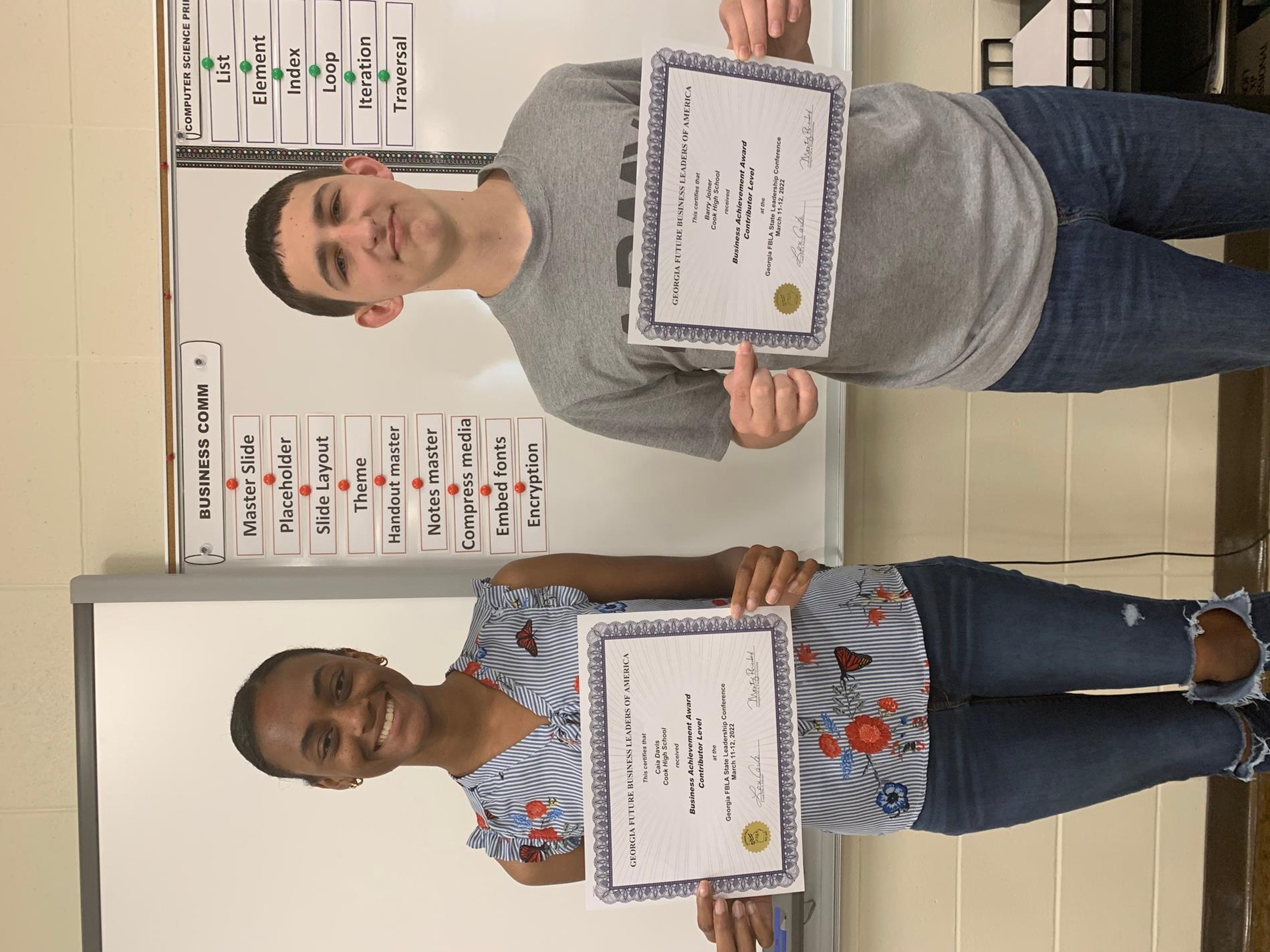 It's Greater to Give than to Receive
Cook High School's Future Business Leaders of America participated in two service activities during December. Last month FBLA collected 250 cans to donate towards Feed GA Campaign which works in conjunction with Toys for Cook Kids. This month, FBLA collected toys to donate to the community. Toys for Cook Kids will donate toys and food to needy families in the county. We were excited to be able to donate to this worthy cause.
In addition to Toys for Cook Kids, FBLA made treat bags for the faculty at Cook High. The students really enjoyed being able to make their teachers smile. What teacher doesn't like a surprise full of goodies in their box?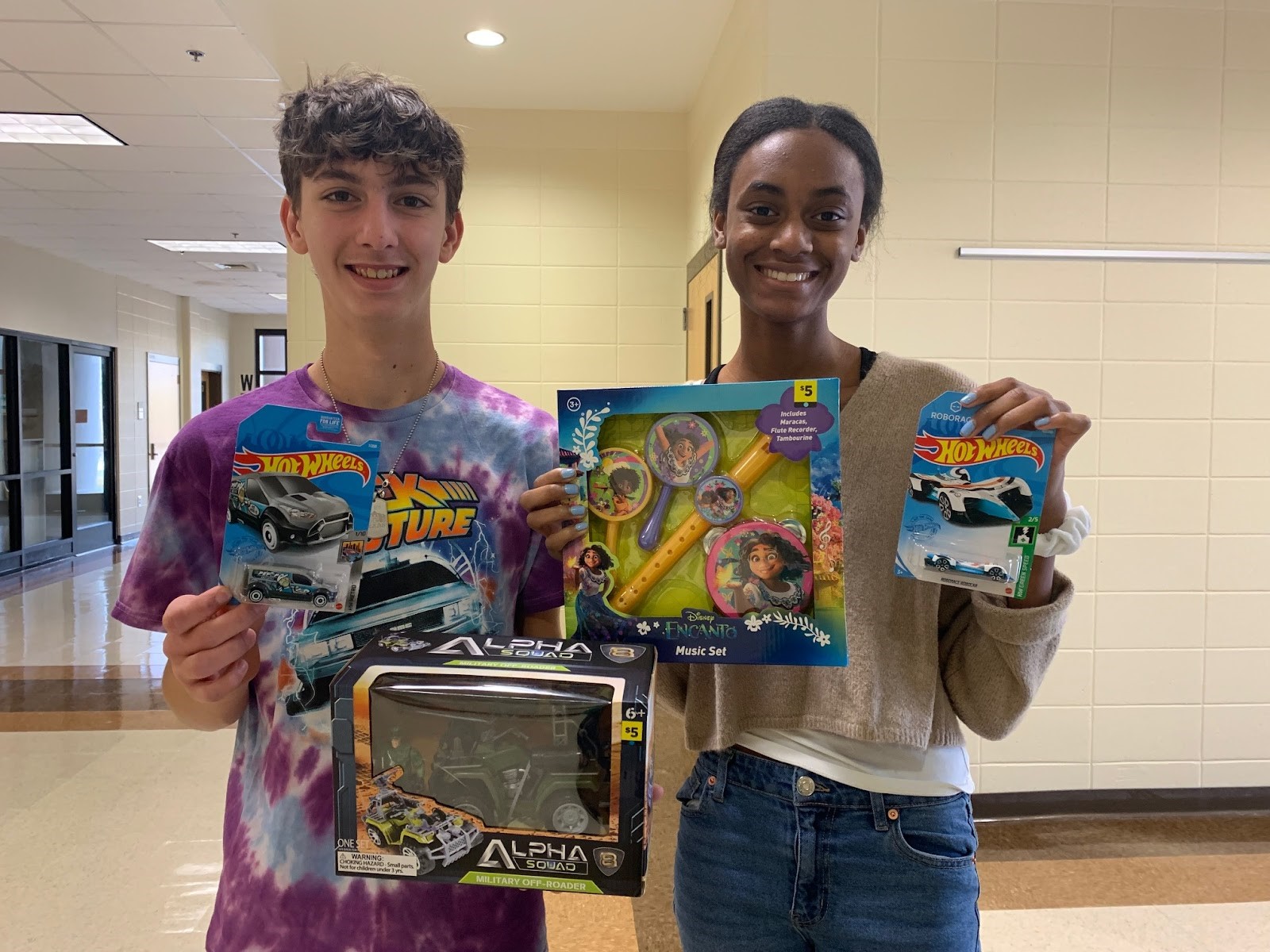 Feed Georgia Campaign CHS FBLA Service Project
Cook High School's Future Business Leaders of America just wrapped up one of their big service projects. Feed Georgia Campaign donates canned foods and toys to the needy during the holidays. FBLA will collect Toys for Cook Kids in December to complete this service activity.
FBLA is proud to share that 250 cans have been collected by Cook High School students and donated to help those in need. We hope that many families are able to benefit from this donation making their holidays extra special.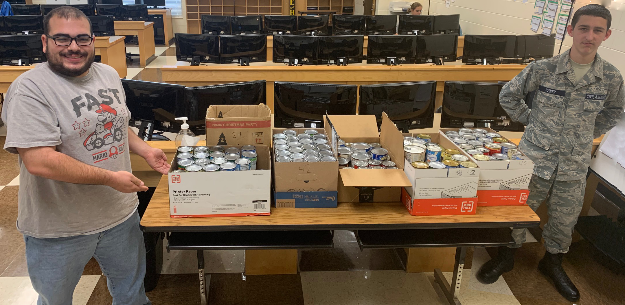 Making Adel Great for Future Generations
(Guest Speaker Brandie Dame)
Cook High School's business classes including FBLA members enjoyed hearing from Brandie Dame, Downtown Adel Main Street Director on Monday, October 18, 2021. As a guest speaker to Mrs. Tillman's and Mrs. Carter's classes, she explained the process and hard work put into making downtown Adel a classic mainstreet in Georgia. Being a classic mainstreet isn't just about a title. It's about making Adel a thriving community for generations to come.
Mrs. Dame's presentation was very informative and opened the students' eyes as to what is involved in making a successful downtown. Many aspects of her presentation correlated with what students have been learning at CHS. Such things include the following: Facebook and social media presence (positives and negatives), interview process, making presentations, giving presentations, designing logos and marketing materials, planning events, and working as a team. Mrs. Dame's presentation started a discussion about making business plans and how this real-world example correlated with FBLA's region and state competition.
After Mrs. Dame's presentation, it was awesome to see students get excited about what they can do for Adel in the future. Adel is a town where individuals work together as one to build a brighter future.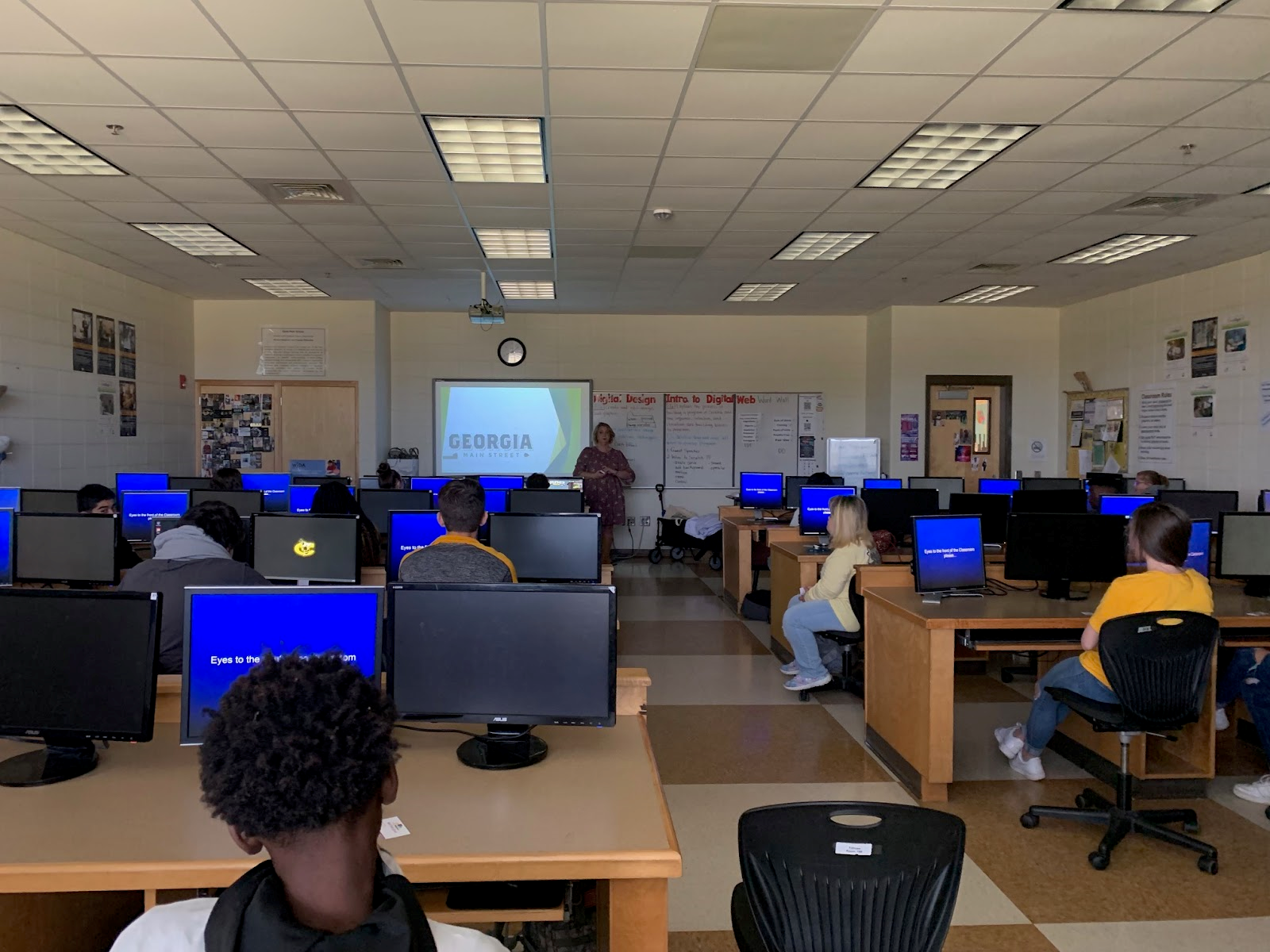 Cook High FBLA Soaring to New Heights

Cook High FBLA is off to a great start with our officer orientation (SLOTS) meeting. Our officers for 2021-2022 are Greg Olson (President), Caia Davis (Vice-President), and Barry Joiner (Secretary/Treasurer). They had great ideas for recruitment, meetings, and school service to get the year started. They have also planned several fun social activities and are ready to begin fundraising projects. Our officers designed and assembled a bulletin board so it is ready for back to school. We are back in the building at Cook High School and ready to soar to new heights with FBLA!
Cook High FBLA on Talk 92.1
Cook High's CTSO Future Business Leaders of America spoke to Scott James at Talk 92.1 on November 4, 2020. Caia Davis, President; Greg Olson, Vice-President; and James Heard, Secretary interviewed with Scott James to share with Cook County what FBLA has been working on this school year.
Officers shared with Talk 92.1 the service activities that FBLA has been involved in thus far. FBLA has been collecting canned food for the Feed Georgia Campaign. The collected items will be donated to Toys for Cook Kids and be distributed to needy families in Cook County. In addition, FBLA will also collect toys for this project through December 4.
Our club officers were very excited to represent Cook High FBLA and to be "on air" at our local radio station.